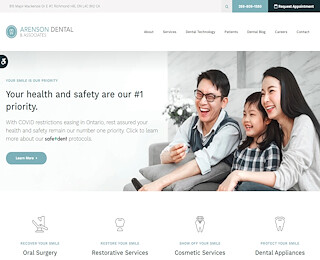 Check into the benefits of dental veneers in Richmond Hill at Arenson Dental & Associates. Veneers are designed to provide long-lasting value and can conceal imperfections like chips, cracks, discoloration, and gaps. Find out more about this cosmetic treatment today when you call our office.
What Are Veneers in Richmond Hill?
At Arenson Dental & Associates, we use super-strong yet thin veneers to improve the appearance of your smile. The process is painless and after it's done, your smile will look like you want it to.
The Ways Veneers in Richmond Hill Can Help
These thin shells, which we adhere to the front of your teeth, can …
eliminate gaps
create a whiter smile
give teeth a straighter look
replace damaged enamel.
If you've been Googling "veneers in Richmond Hill," know that we always welcome new patients and we'd be excited to have the opportunity to help you meet your personal smile goals! If you think veneers may help you smile more, give us a call. Let's get your smile on!
Veneers Richmond Hill
Arenson Dental & Associates
9057703000
815 Major Mackenzie Dr E 7, Richmond Hill, ON L4C 9X2
View Larger Map