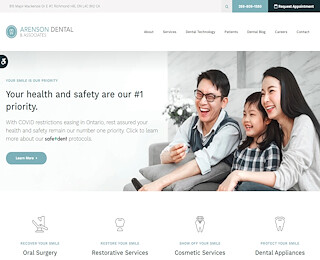 Have you thought that you want to do something about your crooked smile? If so, you can look into your options for professional orthodontics in Richmond Hill. Whether you are a parent hoping to help your child achieve a straighter smile or you have your own dental issues, you will see that working with the right orthodontist can make a world of difference when it comes to your smile. 
What Counts As Orthodontic Treatment?
This is the process for moving or straightening teeth to help improve the overall function and look of the teeth. Orthodontic treatments may also be used as a way to maintain the health of your gums, jaw joints, and teeth by working to spread out the bite pressure overall. Your professional orthodontist might use things such as functional braces, fixed braces, brackets, headgear, elastics or invisible braces to help get the results that you are looking for. Depending on the situation, one or more of these treatment options might be used. 
What Are The Benefits Of Orthodontics? 
Not only do braces help you look and feel good, but there are plenty of benefits from proper jaw alignment and straight teeth by way of orthodontics in Richmond Hill. When you have teeth that are overcrowded and crooked, they can be challenging to care for and clean, which opens up a world of potential damage, decay, and even tooth loss. You could also be subject to issues with chewing, a misalignment of the joints in your jaw, and stress that might be put on your bones that support your teeth as well as your gums. When you leave these things untreated, it can cause neck pain, facial pain, and pounding headaches. 
Fixed Braces –There are times when teeth will have to be guided with something more accurate than removable braces. A fixed brace includes temporary brackets and bands that are adhered to the teeth. There will also be a flexible wire that brings together all of the brackets and will be adjusted at various intervals to bring the teeth into the desired position.
Removable Braces –This is a relatively simple form of treatment that is essentially a plate that can be removed for cleaning. A removable brace has delicate wires with springs that work to move the teeth into position using gentle pressure. 
Invisible Braces –This is a trendy option for adults who are looking to straighten their teeth but do not want the look of fixed wire braces. These are durable, clear plastic aligners that are formed and presented to the patient in a set. Each of the aligners in the set at made slightly different to help progressively move the teeth into position. Every set is usually worn for about two weeks before they are replaced with the next set. 
If you are interested in learning more about orthodontics in Richmond Hill and what they could mean for you or your family, we invite you to give us a call at Arenson Dental & Associates. We take great pride in offering our patients warm and friendly dental care so that we can help you to achieve the straight, beautiful smile that you are hoping for.
Orthodontics Richmond Hill
Arenson Dental & Associates
9057703000
815 Major Mackenzie Dr E 7, Richmond Hill, ON L4C 9X2
View Larger Map