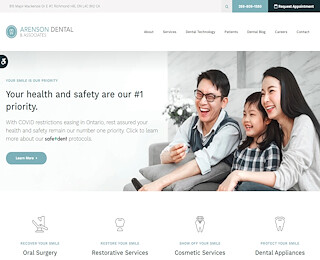 Why see us for general dentistry in Richmond Hill?
With only so many hours in the day, convenience is an important factor for many of our patients. We understand you lead a busy life. That's part of the reason we want to accommodate your schedule as best as we can. When you arrive at our Richmond Hill office, you won't have to travel elsewhere to receive dental care.
Services For Your Entire Family – When You Need Them
Dr. Leonard Arenson and the rest of our team will put your needs first. We take all your thoughts about your smile into consideration before recommending a suitable treatment plan … for the results you desire and can smile about! We firmly believe that general dentistry in Richmond Hill comes down to a partnership with our patients – and that's why your input is needed and appreciated.
So … how can we help you? Here are just a few of the services available to you and your family …
Teeth Whitening – Need a pick-me-up for your smile? With monitored teeth whitening, you can achieve more vibrant teeth that will get you noticed.
Dental Implants – The strongest, most reliable tooth replace option, dental implants are as close to the real thing as you can get.
Sportsguards – Have a son or daughter who plays competitive sports? Then it's a must you get them in to see your general dentist in Richmond Hill for a custom-fitted sportsguard. Protect their smile for years to come!
We look forward to welcoming you to our dental family! As your general dentist in Richmond Hill, you can expect us to always look out for the health of your smile and its longevity. We recommend you visit us regularly for all your scheduled appointments so that we can catch any concerns – before they turn into something more serious. If you have questions about your at-home hygiene routine, just ask! We love educating our patients – prevention is key for safeguarding your smile.
General Dentist Richmond Hill
Arenson Dental & Associates
9057703000
815 Major Mackenzie Dr E 7, Richmond Hill, ON L4C 9X2
View Larger Map