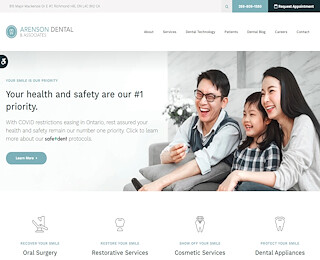 Are you looking for a new Bayview Dental Clinic in Richmond, ON? Arenson Dental would love to care for your family's beautiful smiles. We're currently accepting new patients, offering affordable, quality dental care for patients of all ages. There are numerous reasons why you should choose Arenson Dental for your family's dental care:
Pediatric Dentistry. Educating young children in the proper techniques of brushing and flossing is crucial to establishing a lifetime of healthy oral care habits. We'll also instruct you how to help your child brush and floss at home, so they'll have better checkups when they visit our Bayview Dental Clinic in Richmond, ON.
Emergency Dentistry. If someone in your family should need to see a dentist for a tooth injury, a loose or broken restoration, a toothache, or any other urgent care reason, we'll be here for you. We encourage you to keep our practice's name and number in a place where you'll be able to find it quickly since time is often of the essence during an actual dental emergency.
Sedation Dentistry. Fear of pain during treatment can keep patients out of the dentist office for years. We know that being seen twice-annually for checkups and cleanings is the only way to maintain a beautiful, healthy smile year after year. We offer two options for sedation to ensure you're relaxed and comfortable throughout your entire visit. Feel free to call us to discuss sedation.
Full-Service Dentistry. We're able to meet your family's total dental care needs without having to refer you to a specialist. Aside from our general dentistry services, we also offer Orthodontics, Cosmetic Dentistry, Senior Dental Care, Health & Wellness Visits, Specialty Dentistry, Sleep Apnea Appliances, Scaling, Gum Maintenance, and many additional services for your family.
Digital X-Rays. We want to make sure the process of having x-rays taken is one that is comfortable and safe, which is why we have invested in a new Panorex machine that uses 90% less radiation and makes x-ray visits much more enjoyable.
See What Others Are Saying
Feel free to browse our 'Review' section of Arenson Dental online to read some of our 5-star reviews from patients who have made our Bayview Dental Clinic in Richmond, ON their family's home dental office. If you prefer to research us on your own review site, you'll find us on many Web reviewers, such as RateABiz, Yelp, and RateMDS. We believe our patient reviews will give you the confidence to make your next dental appointment with our caring staff at Arenson Dental.
Affordable Treatment Options
Whether your insurance provider is in our network or you prefer to set up a payment plan with us, we'll make the process of handling the financial aspect one that is easy to understand and efficient. Let us know before your first visit that you have insurance and we'll explain your benefits to you and submit the claims on your behalf. If you prefer to pay out-of-pocket, we'll create a payment schedule that fits your budget.
Bayview Dental Clinic Richmond Hill
Arenson Dental & Associates
9057703000
815 Major Mackenzie Dr E 7, Richmond Hill, ON L4C 9X2
View Larger Map